How to Unlock Your Home Service Business Potential Using Google Business Profile
Are you tired of being lost in a sea of plumbers? Are you wondering if you'll ever become your city's #1 ranked roofer?
Home service businesses often face tough competition in their local markets—sometimes that competition even puts them on the dreaded second page of Google (the best place to hide a dead body).
Luckily, there are ways to get around your competition and Excelerate your local home service business above the rest with a Google Business Profile!
What Is Google Business Profile?
Google Business Profile (GBP) is a free marketing tool that helps local businesses like yours connect with clients, share updates, and track interactions on Google. Think of it like an online window display that lets people get a closer look at your business to learn more about your company, including where you're located, what services you offer, and how they can connect with you. Plus, it gives them an easy way to interact with you if they have any questions or feedback.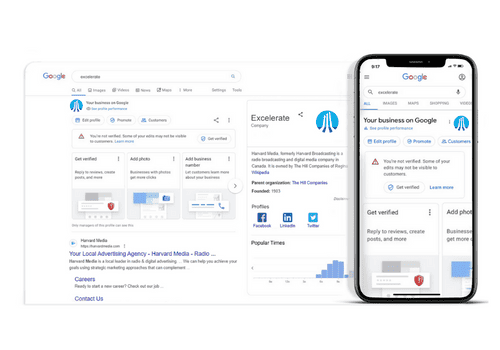 Once you create a GBP, it's like turning on a spotlight for your business in Google's search results, Maps, and Google Shopping. It can also boost your local SEO efforts and help you get noticed by more potential customers in your area.
Why Does My Home Service Business Need a Google Business Profile?
If you want to run a successful home service business in today's marketplace, then having a strong local SEO strategy is essential.
Why?
Because most of your clients are located within a specific geographic area, and they're searching for home service businesses like yours online.
That's where local SEO comes in—it's all about optimizing your website and online presence to show up in local search results, like Google Maps and other local directories. Using targeted keywords, optimizing your Google Business Profile, and building local backlinks can improve your search engine rankings and get you business in front of more customers in your area.
In other words, local SEO can help you stand out from your competition and attract more qualified leads, leading to more business growth and success.
Increase Home Service Business Online Visibility
Having a presence on Google can significantly increase your changes of being discovered by potential clients. How? When people search for local home service businesses like yours, Google's algorithm shows them a set of results that include the "local pack," a prominent feature that displays a map and list of nearby businesses. Appearing in the local pack can make your business stand out and increase your visibility to potential clients, which can lead to more website visits, phone calls and business.
Improve Your Home Service Business Online Identity
Having a Google Busines Profile can help showcase your business's personality and brand identity and highlight the services you provide. The best way to do this is by adding photos of past jobs, videos you think clients may find useful, and a description of your business to your profile, allowing potential clients to get to know you better—you can also showcase customer reviews and ratings to help build trust and credibility.
Another great way you can connect with potential clients is by giving them another way to contact your business. Google allows clients to message businesses directly from their Business profile, giving them a convenient way to reach you, and a great way to improve customer engagement and satisfaction.
By taking advantage of all the features of a Google Business Profile, you can create a strong online presence and stand out from the competition.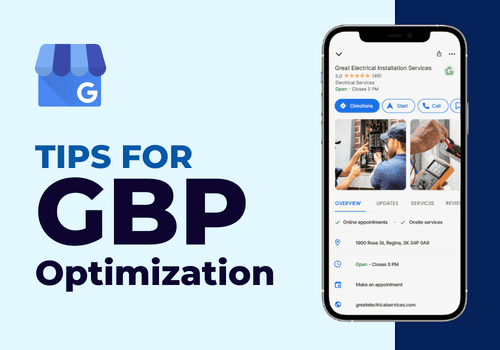 Tips for Optimizing Your Google Business Profile
1. Keep Your Information Up-to-Date
As a home service business owner, it's crucial you keep your GBP up-to-date with accurate and current information. Any outdated details like business hours or phone numbers can frustrate potential customers and push them to seek services from your competitors.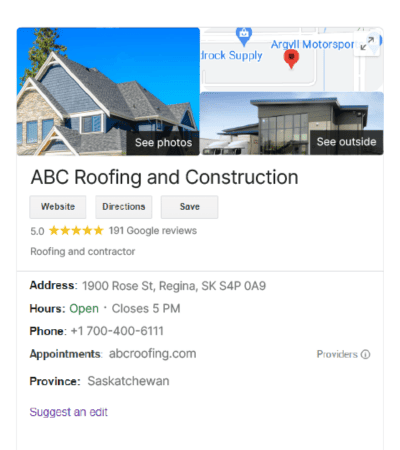 On the other hand, updating your profile regularly can help excelerate your local SEO efforts, improving your visibility in local search results, and making it easier for potential customers to discuss your business.
Regularly updating your profile can also show any changes or updates to your services, which can attract new customers and excelerate the growth of your business.
2. Include High-Quality Photos
Using high-quality photos on your GBP is a must-do tip if you want potential customers to see what previous jobs your home service business has completed so they can make an informed choice when they choose to work with your business.
Remember: a photo says a thousand words, so make sure your photos are visually appealing so they can help your business stand out in search results and encourage people to click on your profile or visit your website to learn more. By giving potential customers a clear picture of your business, you can increase their trust in your service and boost your chances of winning their business.
3. Encourage Customer Reviews
Reviews can make or break a business, and if you don't have any it's just as good as having a 0% credit score. That's why you need to make sure your customers are leaving reviews.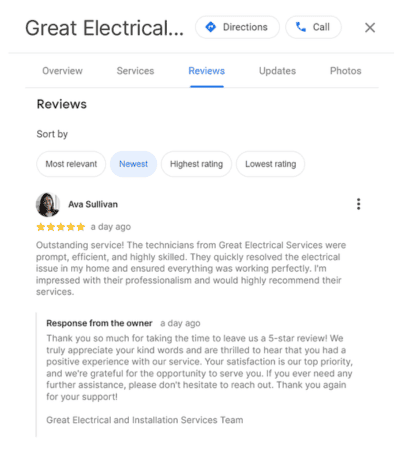 When you have a Google Business Profile, it makes it easy for your customers to leave reviews and share their experiences with others. Encouraging your customers to leave reviews can help boost your home service business's credibility and reputation, which can improve your visibility in search results. It's important to engage with your customers and respond to their reviews to build loyalty while also gaining valuable insights on how to improve your services. Studies show that 88% of consumers are influenced by online reviews, making it even more crucial to have positive reviews on your profile.
A Google Business Profile provides an easy and convenient way for customers to leave reviews, so it's important to encourage their feedback.
4. Respond to Customer Reviews and Inquiries
As a home services business owner, it's important to respond to your customers' reviews and inquiries on your Google Business Profile to establish a strong online presence. When you reply to your customers' feedback, you demonstrate that you care about their experiences with your business and value their input. This builds trust and loyalty and can even encourage more positive reviews in the future from new or returning customers.
On the other hand, responding to negative reviews allows you address and concerns or issues and show that you are committed to giving your customers the best experience you can.
5. Use Google Posts to Share Updates and Promotions
As a home service business owner, it's important to keep your customers in the loop about your services and promotions. With Google Posts, you can easily achieve this. Google Posts enables you to share updates and promotions directly with your customers via your Google Business Profile.
This way, you can keep your customers informed of any changes or new services you offer, advertise special offers and discounts, and demonstrate your expertise by sharing educational content. Doing so helps you attract new customers and keep existing ones loyal.
What's more, Google Posts provides a user-friendly way for customers to take action, such as making a reservation or booking a service, straight from your business profile.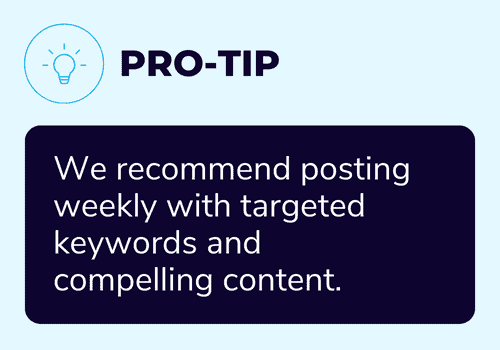 If you're a home service business looking to attract more customers, then having a website is your next solution. But building one from scratch can be overwhelming and take up valuable time you could be using to run your business. Fortunately, GBP has a solution for you.
Once you claim your business profile, you can use the "Website" feature to create a customized website using information from your Google Business Profile that showcases your business name, location, hours, contact information, as well as customer reviews and photos. This allows you establish a professional online presence and attract potential customers without the hassle of building a website from scratch.
Not to mention that having a website also helps build credibility with potential customers and improves your local SEO for visibility in search results.
Google Maps can be a powerful tool for home service business to attract more customers. By adding your business to Google Maps, you increase your visibility to potential customers who are searching for services in their area.
When customers search for a home service business such as an HVAC company on Google Maps, they are shown a list of businesses that match their search criteria. Ensuring your business profile is complete and up-to-date will increase the chances of your business appearing in these search results.
Excelerate Your Local Digital Marketing Efforts with Harvard Excelerate
Now that we've outlined what GBP is and a few our tips on how you can optimize your profile, we wanted to take minute to talk about how difficult it can be to manage different marketing facets of your home service business while trying to actually run your business—there's not enough cooks in the kitchen to get food service done.
That's why our focus at Harvard Excelerate is to offer top tier service to local home service businesses that may need some assistance in their digital marketing efforts.
Google Business Management Service
Our Google Business Management Service was created to help home service business owners harness the power of GBP to get more leads and dominate their local market. When home service businesses work with Harvard Excelerate, they can benefit from comprehensive GBP updates and optimization, detailed product/service listings, expertly crafted responses to customer reviews, engaging weekly posts, a custom GBP website design, and a thorough NAP consistency check and update.
When you sign up for our Google Business Management service, we help elevate your online presence, attract new leads, and inevitably increase revenue while saving time by delegating your digital marketing efforts to a trusted partner. Additionally, you can rely on our Excelerate Local team's expertise and commitment to your success and receive monthly insight reports to track performance and drive continuous improvement.
Take advantage of Google Business Profile today to drive more leads to your home service Business. Don't wait to unlock your business's full potential with Excelerate Local's tailored digital marketing and advertising solutions.