Visibility equals opportunity.
Keep that phrase in mind while reading this blog post. As we look at the specifics of SEO for plumbers, remember that Search Engine Optimization, at its foundation, is about being seen.
And for any business, whether it's a plumbing company or a digital marketing firm, being seen is the first step to winning a new customer. That's why visibility equals opportunity. And that's why SEO is vital to growing your business.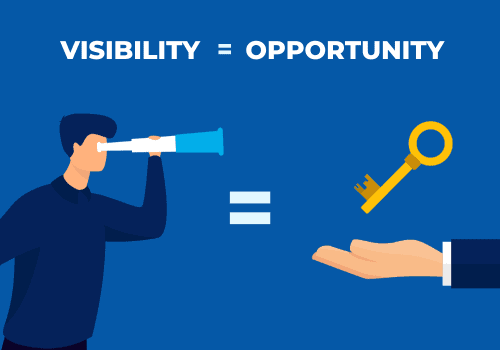 From local SEO tactics that put your services on the map to leveraging a Google Business Profile for heightened search rankings, this guide will provide the SEO tools and techniques necessary to:
Elevate your online presence;
Transform your visibility in search results; and
Connect with the customers who need your plumbing services the most.
For a plumbing company looking to generate demand and find new business among today's digital-first customers, a comprehensive SEO strategy is the first step to increasing the visibility that leads to opportunity.
So, let's get to it.
What Are The Marketing Challenges Facing Your Plumbing Business?
To get started, we should identify why plumbers, specifically, face a difficult challenge in attaining the type of visibility that leads to opportunity.
Understanding and using effective marketing strategies to reach potential customers is a complicated process for any industry, but it's especially fraught for trades like plumbing that have traditionally relied on word-of-mouth referrals to grow their business.
Due to the sweeping social change over the past several years, in-person recommendations are neither as frequent nor as impactful as they once were. Now, instead of simply ensuring quality work to earn referrals, the modern plumber has to worry about:
Online Presence: With the prevalence of internet usage, having a strong online presence is crucial. To be visible to potential customers, plumbers must invest in a professional website, social media marketing, and, yes, SEO strategy.
Reputation Management: Online reviews and ratings can significantly influence customer decisions. Managing and maintaining a positive online reputation is challenging, time-consuming and requires SEO expertise to promote positive content and suppress negative results.
Digital Lead Generation: Like most trades, the plumbing industry is fiercely competitive — especially in densely populated areas. Standing out in digital spaces to local customers requires a highly strategic approach to, you guessed it, SEO.
How Do Plumbing and SEO relate?
At first glance, it's hard to imagine two practices less alike than plumbing and search engine optimization (SEO). Plumbing is a tactile trade that requires a balance of mechanical tools, physical labor and acquired skill. SEO is digital practice that depends on navigating search engine algorithms through imaginative content and virtual techniques.
Examine these two topics a little more closely, however, and commonalities abound.
Just as a well-maintained plumbing system ensures smooth water flow, effective SEO for plumbers optimizes the flow of online traffic to their website. Both fields require specialized tools and continuous maintenance to prevent and address leaks or errors that could impede performance.
But, perhaps the closest comparison of all is found in the way both plumbers and SEO experts provide tailored solutions to keep their respective systems — whether pipes or web pages — functioning at their best.
Website Content Creation for Search
With technical terminology — like algorithm, targeted keyword and meta description — SEO can seem more intimidating than it actually is. At its foundation is a very simple concept:
Search engines, like Google, want to provide searchers with relevant search results. When you create the type of content that matches what potential customers want, Google will send potential customers to your website.
Seems simple enough, but where the complications arise is in figuring out what type of content a potential customer wants to see and how to write it in a way that gets both their attention and the search engine's.
Three Steps to Engaging the Right Audience
1. Answer Common Plumbing Questions
Homeowners often search for solutions to their plumbing issues online before calling a professional.
Create content that answers common questions such as "How to fix a leaky faucet?" or "What to do during a plumbing emergency?"
This not only positions you as an authority but also increases the chances of your content matching with search queries.
2. Highlight Local Services and Areas
Incorporate local keywords relevant to the communities you serve. Use phrases like "plumbers in [City Name]" or "best drain cleaning service in [Area Name]."
This local SEO strategy helps your website appear in search results when potential customers in your service area look for plumbing services.
We'll examine how to focus on local SEO later in its own section.
3. Showcase Your Expertise Through How-To Guides and Tips
Develop content that demonstrates your plumbing expertise, such as how-to guides for simple fixes or maintenance tips to avoid common plumbing problems.
Be aware that this type of content can attract users looking for DIY solutions, but when the job gets too complicated, your business will be top of mind for professional help.
By crafting content that resonates with the needs of your audience, you effectively address the important marketing pain points of visibility and engagement that we identified at the beginning. Having the right content ensures that your plumbing services are the answer to real customer searches.
How Web Design and Visuals Can Impact SEO
Increasing traffic to your website through organic search is about more than just written website content and relevant keywords. A well-designed webpage not only retains visitors with its look and feel, it also appeals to Google when it comes time to rank pages and give its search results.
In practical terms, that means going beyond merely providing the answers to pressing plumbing problems in your written content, and instead, presenting them in a visually appealing and accessible way.
There are actually a number of tricks you can pull with your website's images to ensure your visual content does more than draw the eye — and actually also boosts your SEO.
Three Steps to Attracting More Traffic Through Images
1. Optimize Image Formats
Selecting the right file format is essential. WebP, for example, offers high-quality images at smaller file sizes than JPEG or PNG, keeping your site swift and responsive.
WebP is a favourite of Google and can prevent slow loading times, which other search engines might penalize.
For a plumbing company, a fast-loading website is essential for maintaining high search engine rankings and satisfying mobile searches.
2. Compress for Faster Pages
Using tools like TinyPNG or ShortPIXEL can reduce image file sizes without sacrificing quality.
Compressing images sizes translates to faster page loading, which is not only important in keeping users engaged on your site, but a critical factor when it comes to SEO ranking.
3. Describe with Alt-Text
Incorporate descriptive alt-text for images to aid search engines in understanding your content.
Not only does this help visually impaired users, but it also acts like a map, guiding Google through the imagery of your services.
It can be the difference between a user finding your site or a competitor's when they search for specific plumbing services.
Marrying these elements within your web design is not just about aesthetics, it's about creating a seamless user experience that reflects well on your brand and satisfies the technical criteria search engines look for when ranking sites.
Meta Descriptions and Title Tags are Crucial to SEO Efforts
Meta tags, descriptions and titles are small snippets of information that act like hidden messages for search engines. They're not actually visible on your site, but instead, are used in search engine results pages to inform searchers what a site is all about.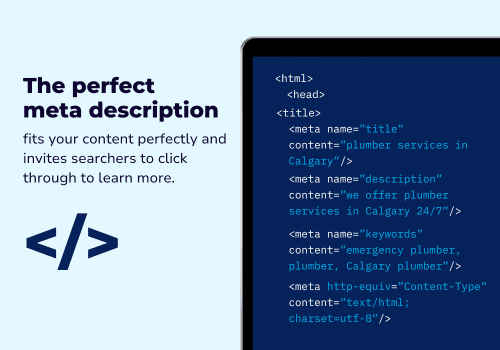 When it comes to SEO for plumbers, it's probably best to think of meta data as a tool. Just as the right wrench fits snugly on the bolt it's going to turn, the perfect meta title and description will fit your content perfectly.
That way, when a searcher comes along looking for "emergency plumbing services," your meta description will inform them your plumbing company is exactly what they need.
Three Steps to Using Meta Data More Effectively
1. Craft Compelling Meta Titles
Your meta title tags are often the first connection you have with your website's audience.
Make it firm and memorable by including phrases like "24/7 Emergency Plumber in [City Name]" or "Trusted Pipe Repair Specialists."
Stay within the sweet spot of 50-60 characters and ensure your most important keyword is present, helping your website rise to the top of search results.
2. Be Descriptive
A meta description is like a 30-second elevator pitch. It should encapsulate your plumbing service's reliability and expertise while using action-oriented language.
Always include a call-to-action, like "Schedule your leak fix today!"
Keep meta descriptions under 160 characters to ensure your full message displays in search results, inviting clicks with clarity and confidence.
3. Avoid Common Meta Mistakes
Ensure each page on your plumbing site has a unique meta title and description to avoid confusing search engines and users alike.
Steer clear of dumping a long string of keywords in your meta descriptions. Instead, focus on descriptive, natural language that speaks to your customers' needs, like "Reliable drain cleaning that keeps your home safe and dry."
This is especially important for your service pages.
By being precise with your meta tags you're highlighting your plumbing services, making your expertise as plain as day. It's important to remember the core objective of meta data is to guide users from the search they began to the service you provide.
Follow the three tips above, and your plumbing business is primed to climb the ranks, ensuring your service pages are compelling and click-worthy in search engine results.
Linking Strategies: Building The Digital Network of Your Plumbing Business
When it comes to SEO for plumbers, a lot can be achieved through links.
A network of internal links on your own website ensures both users and search engines can navigate your content with ease. Meanwhile, selectively establishing quality backlinks (links from external sites) establishes the authority of your plumbing business within the industry while also enhancing your search engine rankings for targeted keywords.
Three Steps to Optimzing Internal Links, Link Building and Technical SEO for Plumbers
1. Create a User-Centric Pathway
If you were to write an informative blog post on your site, like "Preventing Frozen Pipes," you could strategically place internal links within the blog post to direct readers to your contact page or service bookings.
This enhances user navigation and signals the relevance of your content to search engines, improving your search rankings above other plumbing businesses with scattered links and poor navigation.
2. Cultivate Local and Expert Connections
Effective link building is about engaging with the right online content. Connect with reputable home improvement blogs and local community resources by sharing your expertise on plumbing topics. This could be through blog posts, articles or even a column in a trade publication.
Always make sure to secure permission to backlink to your site's pages when you offer to provide content to an external site.
By positioning inbound links in local directories and forums, offering valuable advice on other sites, and always ensuring a link back to your domain, you'll bolster your authority through link building and also amplify your visibility in local search results.
3. Implement Technical SEO Enhancements
Embrace technical SEO improvements by refining your site structure for easy navigation and to reclaim lost links.
It sounds complicated, but this can be done using tools like Google Search Console.
By addressing these technical SEO elements to ensure all your links are active, search engines can crawl and index your site efficiently, boosting your overall SEO performance.
A well-structured approach to internal and external linking, combined with technical SEO finesse, sets the stage for increased visibility and customer engagement, propelling your plumbing services to the forefront of the digital market.
Local SEO for Plumbers
By now, we've established the importance of SEO for a plumbing business — and identified content, visuals, meta data and links as the key areas to address for optimization.
While it's great to establish your authority across the whole of the internet, as a local plumbing business owner, you need to focus your SEO efforts on the market which you serve, where your prospective customer base lives.
We've already used the term "local SEO" a few times throughout this blog post, but this topic is so important, it really needs a section of its own. Local SEO isn't just a buzzword; it's a strategic necessity for plumbing businesses that are serious about digital visibility and attracting new customers.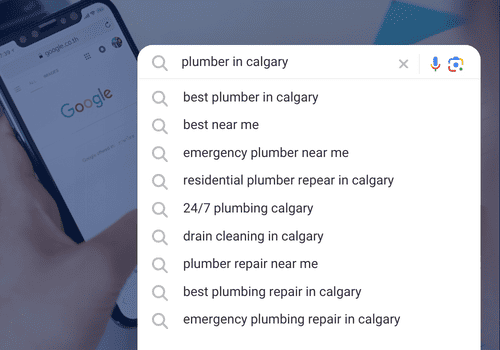 Three Steps to Getting Your Local Business Noticed in Your Area
1. Prioritize Local Keywords
We've already mentioned how content can be used to promote your business online through SEO. The same general principles apply specifically to local SEO efforts.
Use keyword research to integrate the right local keywords that resonate with your community into your site's content. We used this example earlier, but it really is effective to include terms like "emergency plumber in [City Name]" or "reliable water heater solutions in [Service Area Name]."
This approach ensures that when potential customers are in need, your services rise to the top of their search results.
2. Leverage Customer Reviews to Build Online Trust
Online reviews are the currency of trust in the digital world. Regularly encourage your customers to leave feedback on Google and other relevant platforms.
Positive reviews not only boost your credibility with search engines, but also potential customers.
That kind of visible online feedback leads to better local search placement and increased opportunities for your plumbing business.
3. Get More Traffic By Thinking 'Local' First
Combine community involvement with a robust directory presence to amplify your local SEO impact.
Participate in local forums, contribute to discussions on local social media, and offer expert advice on plumbing-related issues on local web pages. In addition to this, you can ensure your plumbing business is accurately represented on local directories and niche review sites.
This dual approach not only solidifies your reputation as an expert plumber, but also places your services directly in the path of potential customers actively seeking plumbing solutions in your service area.
There's so much to be gained by utilizing local SEO techniques like this, but a lot of local businesses simply aren't taking advantage of the opportunity. Put these tactics into action, and watch as you significantly improve both your online presence and SEO.
And as you dive deeper into the intricacies of SEO, remember how important a local focus can be toward establishing a strong digital footprint in your community, where sales are made.
Google Business Profile Optimization
When we talk about SEO for plumbers — or any business, for that matter — there's one statistic in particular that stands out: More than 90% of internet users rely on Google's search results.
With all due respect to other search engines, so much of your organic search traffic is a result of Google that it simply makes sense to use the tools they provide, like Google Search Console and Google Analytics, to monitor and optimize your search results. But the most important tool that Google offers businesses, especially when it comes to optimizing local search, is Google Business Profile.
Through Google Business Profile, you can create a free business listing that appears in Google search results and Google Maps. This listing provides prospective customers with essential information about your business, such as your hours of operation, address, phone number, and website.
But Google Business Profile goes beyond just business listings. The platform offers a range of features that help you stand out from your competitors and attract more customers to your website and your services. When properly utilized, Google Business Profile is one of the most powerful marketing tools your plumbing business can use.
Three Ways to Harness The Power of Google Business Profile
1. Link Your Website to Your Google Listing
A lot of small businesses don't think about the importance of a potential customer seeing a listing highlighted in a box in their search results or knowing that you are indeed a local business by appearing on Google Maps.
Linking your plumbing website to your Google listing reduces hurdles for people looking to find your plumbing business. The easier you make it, the more visible you are and the more opportunity there is to get new customers.
This is one of the easiest things you can do to improve your SEO.
2. Keep Your Google Business Profile Fresh
Simply by ensuring your contact information is always up-to-date, you're letting Google know you're taking your profile seriously, and it has the added benefit of letting customers know how to reach you when they need your plumbing services immediately.
Even though a plumbing business isn't looking for foot traffic, keep your location and business hours up-to-date, as well. This lets a prospective customer know when and where you're available. And if they're searching on Google Maps, they'll see how closeby you are.
Finally, regular photo updates are a great way to bring in more traffic. By offering local searchers a preview of your quality work, it increases the chances they'll choose you over competitors.
3. Use Insights To Track Search Results and Make Informed Decisions
To this point in the blog post, we've discussed a lot of tactics to improve SEO for plumbers, but we haven't mentioned the importance of making sure those tactics are working — and revising them when they're not.
Google Business Profile offers a range of insights that can help you track your performance and see how your listing is performing. These insights include some incredibly important and informative data:

How many people are viewing your listing.
How people are finding you (mobile, desktop, maps, search, etc.).
How many people called you, messaged you, or booked an appointment.
Top organic search terms showing your website in the search results.
How many people are clicking through to your website.

Use these insights in conjunction with Google Analytics to inform adjustments you make to your SEO strategy. And as an added bonus, you can get a little bit of free keyword research simply by paying attention to which profile updates are generating the most engagement.
Creating a Google Business Profile is like setting up an enormous billboard that your entire service area can see. It's the simplest way to help local searchers find your plumbing website easily when they need plumbing services.
Why Plumbers Need SEO More Than Ever
We began this blog post by saying that visibility equals opportunity.
By now, you know the best platform to create visibility for a plumbing website isn't just one site or service; it's the entirety of the internet made accessible through effective SEO.
There are a million technical terms — from "targeted keyword" to "meta description" — associated with Search Engine Optimization, but the thing you have to always remember is that, at its foundation, SEO is simply about being seen. And every time you're seen, it's an opportunity; an opportunity to convert a visitor into a new customer.
Turn SEO into Your Competitive Advantage Today
Now that we've outlined why SEO is critical for plumbers and gone through all the ways you can can utilize it to address the common marketing pain points that plumbers face, it's time to act.
With Harvard Excelerate's Free Digital Marketing Health Check for Plumbers, you can start refining your SEO campaign to stand out in your local area with actionable advice from SEO professionals. This level of insight isn't just for plumbing business in general, but to your specific plumbing company.
You know, better than most, that DIY doesn't cut it when you need a job done right. Reach out to the SEO professionals at Harvard Excelerate to increase your visibility and opportunity.
Click here to begin dominating Google's local search rankings and ensuring your plumbing services are the go-to choice for every local customer in your service area.