With Google Business Profile, you can create a free business listing that appears in Google search results and Google Maps. Learn how to take advantage of this free listing and make it work for you with these easy tips and tricks.
For any business owner, Google Business Profile (GBP) is an essential tool to drive traffic to your website and increase your online visibility. With Google Business Profile, you can create a free business listing that appears in Google search results and Google Maps. This listing provides potential customers with essential information about your business, such as your hours of operation, address, phone number, and website. And let's face it; everyone is using a search engine to find what they need (over 90% of searchers use Google!).
But GBP goes beyond just creating a business listing. The platform offers a range of features that can help you stand out from your competitors and attract more customers. Let's explore some of the best Google Business Profile features and provide tips and tricks for effective management.
1. Post updates
One of the most powerful features of your Google Business Profile ability to post updates. First of all, it's FREE to do. These updates can be in the form of photos, videos, or text, and they appear prominently in your business listing (for most types of businesses). You can use updates to promote sales, events, new products, or simply to keep your customers informed about what's going on with your business.
To create an update, make sure you are logged into a Google profile that has access to your GBP account and simply search Google for your business. From the feature menu, select "Add Update." From there, you can create a new post, add an image or video, and include a call-to-action (CTA) button and link directly to your website. You can also choose how long you want the post to appear on your listing, from one day to two weeks.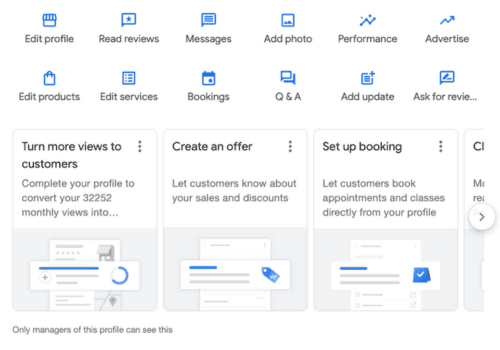 Google Post Tips:
Keep your updates short and sweet. Aim for one or two sentences and a compelling image or video.
Images may crop differently on different platforms (e.g. desktop vs mobile vs maps) so aim to keep the graphic simple and with little to no text.
Use a clear CTA to encourage your customers to take action, such as "Learn more" or "Book now" and link to your website.
Experiment with different types of updates, such as event announcements or product showcases, to see what resonates with your audience.
Keep in mind that this is not the place for daily social media updates as important content can get lost. Social media is meant to engage, Google Posts are an opportunity to simply make announcements to your current and potential customers.
2. Respond to reviews
Reviews are a critical component of your Google Business Profile listing. They provide social proof to potential customers and can help boost your search engine rankings. But responding to reviews is just as important as getting them in the first place.
When you receive a review, whether positive or negative, respond promptly and professionally. Thank the reviewer for their feedback, address any concerns they may have raised, and offer a solution if possible. This shows that you value your customers' opinions and are willing to go the extra mile to ensure their satisfaction. The most important thing is to remain professional in your response, particularly to negative reviews. We offer a reputation management service that allows you to take care of business while our team answers all reviews on your behalf with professionalism and neutrality.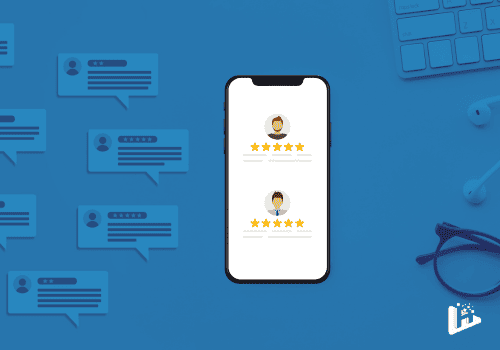 To respond to reviews on your own, you can click on the email notification or navigate to the "Reviews" section by simply searching for your business on Google. From there, you can read and respond to all of your reviews in one place. For an even more seamless experience, try our Reputation Management platform. In this platform, you can answer new reviews from one convenient spot, check out your analytics, determine keywords, sort by date range, and more! 
Online Reputation Tips:
Respond to every review, even if it's just a simple "thank you."
Don't get defensive or argumentative. Always take a constructive approach to negative reviews.
Use reviews as an opportunity to showcase your customer service skills and build trust with potential customers.
Do NOT pay for reviews. The goal of reviews is to garner honest reviews that are from trustworthy sources. When reviews come from employees or other people associated with the business, they come off as spammy instead of trustworthy.
3. Add photos and videos
Photos and videos are a fantastic way to showcase your business to potential customers. They can help create a visual representation of your brand and give customers a better idea of what to expect when they visit your business.
To add photos and videos to your GBP listing, log in to your account, search for your business, and find the "Add Photo" from the menu in the search results. From there, you can upload new photos and videos, or choose from existing ones.
Google Listing Photo Tips:
Use high-quality images and videos that showcase your business in the best possible light.
Include a mix of interior and exterior shots, as well as photos of your products or services.
Keep your photos and videos up to date, so your listing always reflects your current offerings.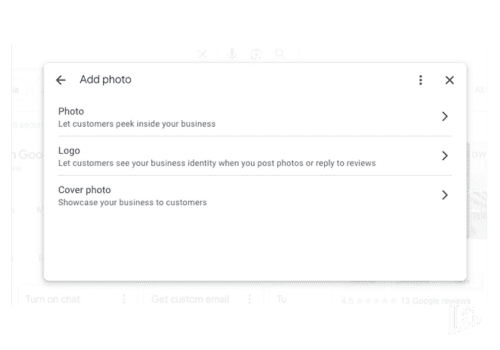 4. Connect a website
If you don't have a website for your business, Google Business Profile can help you create one, but we recommend going for something that is professionally designed and customized to your business (we're saying you need a Harvard Media website). Link your website to your Google listing to make it easier for people to find your business. This is one of the easiest things you can do to improve your SEO.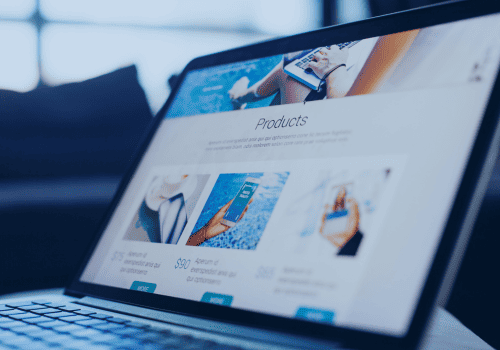 Website Design Tips:
Keep your website simple and easy to navigate, with a clear call-to-action on each page.
Include essential information about your business, such as your hours of operation and contact information.
Use high-quality images and videos to make your website visually appealing.
5. Use insights to track your performance
Finally, Google Business Profile offers a range of insights that can help you track your performance and see how your listing is performing. These insights include some eye-opening data:
how many people are viewing your listing
how people are finding you (mobile, destop, maps, search, etc.)
how many people called you, messaged you, or booked an appointment (if applicable)
top organic search terms showing your website in the search results
how many people are clicking through to your website
how many people are requesting directions
You can adjust the dates to track certain time periods and evaluate changes month after month. To access your insights, log in to your GBP account and navigate to the "Insights" or look for the "Performance Reports" tab if you're accessing the listing from Search Results. From there, you can see a range of data on your listing's performance.
Insights and Analysis Tips:
Use insights to track your progress over time and make adjustments to your listing as needed.
Pay attention to which updates and photos are getting the most engagement and use this information to guide your content strategy.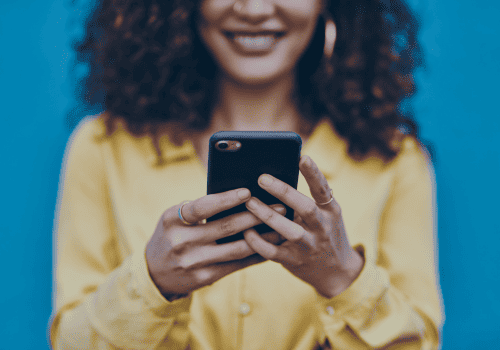 Google Business Profile is a powerful tool for any business owner looking to increase their online visibility and attract more customers. By using the features and tips outlined in this blog post, you can create an effective GBP listing that stands out from your competitors and drives traffic to your website. Remember to keep your content up to date, respond promptly to reviews, and use insights to track your performance over time. With a little effort and attention to detail, you can turn your GBP listing into a powerful marketing tool for your business.